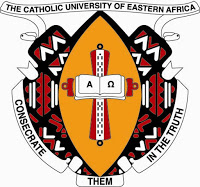 In what can be termed as the progress of ICT knowledge at the University, the Catholic University of Eastern Africa Students Organization (CUEASO), Lang'ata Campus, in their General Assembly on February 24, 2016 adopted an electronic voting system for their oncoming election to be held on 9th March 2016.
The system was designed and developed by a group of students in the department of Computer Science in the Faculty of Science. The system allows the students to vote conveniently from any location securely. All you need is an internet connection!
The important features include: Security on which your personal data is sent and stored encrypted for extra security and privacy and Flexibility on which one can vote from any device – Smartphone, Laptop, or Desktop.
The system is said to be user friendly. All that is needed is to connect to the website www.cueamac.com to verify his or her details. If any problem arises the voter is asked to visit the confirmation desk which will be located at the Main campus ground or in Upper campus (Kozloweicki Hall).
According to the message posted on CUEA website, on the voting day the Jubilee Computer Lab and Tzadua computer Labs are said that will be open to all students to vote. However, voting can be done from your personal devices i.e., Laptop, mobile phones (Smart phones) and Desktop computer at your convenience place.
Commenting on the initiative of the students, the ICT Coordinator of AMECEA secretariat said it worth judging that our society is moving forward on ICT issues. Instead of the University spending some money to hire IT experts for this exercise students themselves have found that they can offer their contribution to the society by making a credible and transparent election through their ICT knowledge they studied at the university.
The Social Communication Coordinator at AMECEA secretariat Rev Fr Chrisantus Ndaga said that in the ICT knowledge what is needed is the innovations. These students have demonstrated one sector on which ICT can be expedient. "I wish that the grow up with the same spirit for greater benefit of the society," he said adding that "Let us wait to find out how successful the project is, before we give our commendation."
By CUEA Press and AMECEA Online News